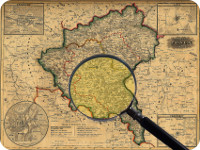 Our goal is to transcribe the 19th century marriage records from the historic Greater Poland into a searchable online database. The core part of that region was at the time the Poznan Province of Prussia. Our efforts were started in 2000 and now over a million records are available.
The Project is coordinated by Łukasz Bielecki of Poznań and is actively supported by dozens of volunteers from many countries, who have been transcribing marriages from the entire region. The search engine was created by Maciej Glowiak and we are using the technical facilities kindly made accessible by the Poznan Supercomputing and Networking Centre.
You are welcome to ask Łukasz Bielecki about how to obtain copies of records found in the database or a further research of your Poznan/Posen ancestors. Also, your support of the Project's development is appreciated.
This site uses "cookies".